Assay
: 80%?5%
Molecular Formula: C27H44O
Structural Formula: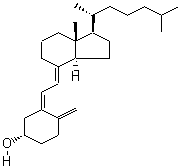 [Processing Technique]
  It is produced from the acylation, oxidation, hydrazonization and saponification of cholestero. The technical process is developed independently by us with independent intelligent property right.

[Properties]
M.P. 125-140°C
Specific rotation: -105?#65374;-115?(c=0.8, EtOH 25°C)
Water Solubility <0.1 g/L (20°C)
[Use]
It is the intermediate of Vitamin D3; used in the treatment of rachitis and osteoporosis.