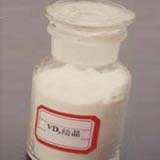 General Name : Vitamin D
3
Spec.: 40 million IU/g
Assay(%): 97.0-103.0
Standard: BP2002, USP28, CP2005
Structural Formula: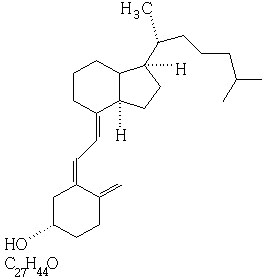 Appearance: colorless needle-like powder or white crystalline powder.
Specific optical rotation: +105? +112?ethanol, anhydrous)
Absorption coefficient: 465-495(at 265nm wave length)
Solubility: very easily soluble in ethanol, acetone, chloroform or ether; insoluble in water.
[Use]
It is used for the prevention and treatment of rickets caused by the lack of vitamin D as well as osteoporosis of the aged; in the manufacture of composite reagents, especially A·D reagent. It is also added to milk, food and drinks to supply vitamin D.